The Love & Community Hour
Happy New Year… Happy New World!!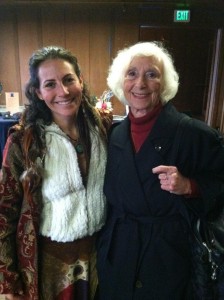 Why is 2012 the beginning of a New World?
Ali shares the story her new mentor Barbara Marx Hubbard likes to tell about the planetary birth experience of humanity into the next phase of evolution. All of the struggle & strain of this time in history – the war and weather patterns and challenges on every level – is the precursor to this collective awakening… this collective birth where we learn to co-create reality at the next level of evolution.
Here's another version of her telling the story to the Executive Producers she met with last week in LA…
Ali is feeling Barbara's message resonating at the deepest levels, and so she's decided to dedicate this year to helping her spread the word. Check out the training Ali is taking to get up to speed with Barbara's message – join her if you feel inspired!!
And be sure to reach out to Ali so she can keep you in the loop about updates from Barbara as more of the vision is revealed!
So, where are they at with their Relationship P.A.C.T.?
Craig has held the intention that they add one agreement every week or so on The Show until the Winter Solstice, at which point they will seal the deal and make their Publicly Acknowledged Commitment to Truth until Summer Solstice 2012, when they will step back and re-evaluate, and see what wants to happen from there.
Well, that didn't happen… In fact, as they rolled through the Solstice, and then New Years Eve, it simply didn't arise. Rather than force something unnatural, Craig felt into his gut, and realized that he didn't feel he had enough support in his life to fully show up for the PACT, but that he was going to use it to guide him to create that support, and wait until he felt ready to fully commit.

Meanwhile, Craig is taking time to patch up his energy drains, and one of the best ways he's found to do that is The No Woman Diet that friends Bryan & Decker host from time to time. If you want a super-charge in your relational life, it's a powerful way to move forward or get unstuck. It was actually a major catalyst that brought Craig & Ali together!
Lastly, Ali & Craig talk about the Shadow in the Integral Community, and the power of the Integral framework for bringing forward the truth in all perspectives.
Here are some direct links to check out Stuart Davis, Michael Dowd & Barbara Marx Hubbard. Enjoy!
The upshot of the Love Hour this week is: We're waking up!!
The Money Hour
Ali's just about out of credit!
As she walked around San Francisco on New Year's Day, she realized that she can no longer buy anything she wants on credit… Yet, she is realizing that she really is enough, and really does have enough, and can manifest as much money as she NEEDS to create the experiences that help her self-actualize.
So, from that place, she is contemplating what kind of world she wants to co-create and share with all of you!
What kind of world would you create if you had an infinite supply of money (aka "Creative Stuff") to work with?
The upshot of the Money Hour: Moving beyond money fear is about owning the abundance that already lives inside you.

+++++++++++++++++++++++++++++++++++++++++++++++
In other news…
Read Ali's blog post about What It Means To Wake Up
Here's the latest on XOXOX.biz – read about the name change and join the Beta test group!
Finally, if you were looking for the recap videos from the last show of 2012, here's all we could salvage after Livestream crashed… Thanks so much to Tanya Watson for firing up her screen capture software and providing at least a small sample of what some felt was the most inspiring show of the year!
Leap to New World:

Truth of Ali's Business:

+++++++++++++++++++++++++++++++++++++++++++++++
As always, we love it when you share your thoughts with us, and invite others to check out The Show & join the conversation.
You can comment below, or on Facebook or Twitter using #WholeTruthShow
If you're feeling it, please share this post with the social share links to the left.
Thanks, and see you next Tuesday at our new time [10-12 PST /1-3 EST] for another great episode!
-Craig, Ali & The Whole Truth Team